Boyz II Men Press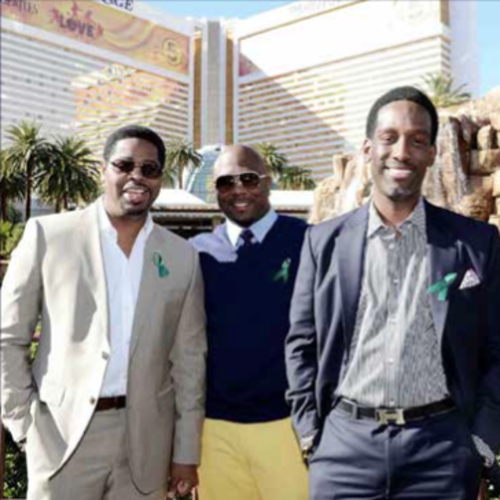 Boyz II Men, America's bestselling R&B group of all time, have landed a nearly yearlong residency of selected weekend dates at the Mirage. "Motownphilly's back again," said baritone Nathan Morris, a founding member of the group, in a news release. He'll be joined by tenors Wanya Morris and Shawn Stockman for the 78 shows in the Terry Fator Theater.
Under Terry's own new extended contract, the entertainer, singer, ventriloquist and $1 million Season 2 winner of "America's Got Talent" gets several weekend dates cleared for his out-of-town appearances and a new Hollywood TV project. Boyz II Men will start taking over several weekends as of March 1 and will perform through Dec. 29, with, of course, a possible option of extending.
The residency is being co-produced by Las Vegas' Adam Steck of SPI Entertainment and Boyz II Men manager Joe Mulvihill. Adam's Human Nature is moving into its new home across from the Mirage at The Venetian on Jan. 19, and his resume also includes Mike Tyson's "Undisputed Truth," which had its world premiere at MGM Grand, "Divas" starring Frank Marino at the Quad and Excalibur headliner shows Thunder From Down Under and "The Australian Bee Gees Show." 
Joe said in the release: "We're delighted to have the guys just where they belong in the Entertainment Capital of the World for this exciting step in their career." Mirage VP Franz Kallao added: "All of us at The Mirage are excited to welcome them to our resort; they will be a wonderful complement to our entertainment lineup."
Boyz II Men was formed in 1990 and is the bestselling R&B group of all time, have sold more than 60 million albums worldwide. Their singles "End of the Road," "It's So Hard to Say Goodbye" and "I'll Make Love to You" were chart blockbusters. In 2012, they were honored with a star on the Hollywood Walk of fame; their new album "Twenty" went to No. 1 on the R&B Soul Album charts.